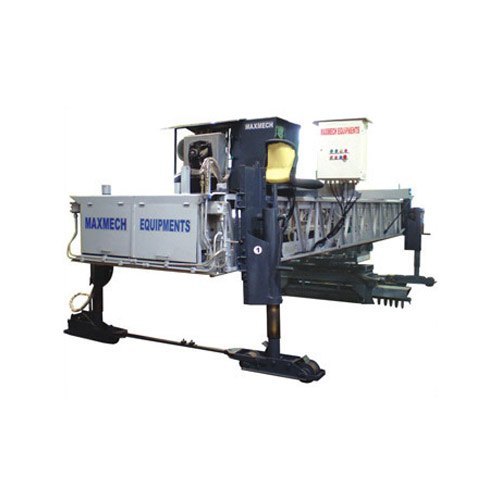 Concrete Lining Paver
Product Code : 05
Product Description
Being a customer-oriented organization, we have been able to manufacture, export and supply optimum quality Concrete Lining Paver. This machine is manufactured using best grade components in our state-of-the-art manufacturing plant. It is highly demanded in the market for rendering the pavement of canal, airport apron and runway roads, flooring, reservoir and bridges. The frames of this pavement machine are normally made in length of 1220mm, 1830, 2440mm and 3660mm for easy handling and thorough operation. Concrete Lining Paver offered by us is used to finish the laid concrete in desired thickness and prepare a level finished concrete layer.

Features:

Sturdy Structure
Strapping blueprint, made for plans of airport, canal and road projects
Quick service
Firmly United and polished concrete laying
Other Information:

Optional
Sturdy, heavy duty design built for canal, Road and airport projects Speedy, compacted and finished concrete laying

'MAXMECH' Concrete lining paver is broadly utilized for pavement of airport apron, runway roads, flooring, canal, bridges, reservoir etc. It comprises of solid frame structure made from pipes, angles, and plates etc. These frames are commonly constructed in lengths of 3660mm, 2440mm, 1830mm and 1220mm for handling them with an ease. It is composed of two hydraulically driven power packed components, one is fixed at console from where the user operates the machinery and another is fitted at the traveling part i.e. undercarriage. All units are outfitted with electric motors. The downright frame (conforming to the needed length) is inclined on 4 Nos. entrenched mechanical jacks which are utilized for grading of the machine. These four jacks are then fitted on a composition which carried a set of 2 rollers which indicates of running 4 bogies on rail.
The fix console is placed at one end from where the manipulator administers long travel speed and drum bogie operation. It is equipped with 10 H.P. electric motor and power pack. The undercarriage also comprises of power pack component which is equipped with 15 H.P. electric motor that operates groove cutter, drum and drum vibration.
The role of a concrete lining paver is to varnish the set concrete in coveted thickness and fixing a levelled polished concrete layer.
In concrete, the expansion joint is made by two ways. In the first technique longitudinal and transverse groove cutters (impelled by hydraulic motors) are rendered and in the second technique, the PVC inserter is dispensed in transverse direction and longitudinally.
'MAXMECH' WORK BRIDGE
The structure is driven manually which is made from pipe and planks made of wood with four wheels. It is also taken into use for producing varnishing work on groove and canal finishes of transverse and longitudinal section.