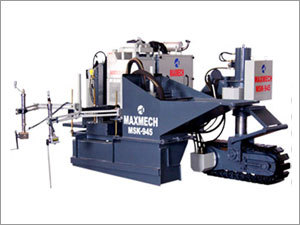 Slipform Curbing Machine
Product Code : 12
Product Description
We are one of the most trusted and reputed manufacturers, exporters and suppliers of optimum quality Maxmech Slipform Curbing Machine. This is one of the most versatile machines, which is used for making different types of Curb for highways, footpath small box gutters and many more. Curbing machine manufactured by us is self-propelled driven by a compact water cooled diesel engine, having a Rubber Padded Crawler track, of 910c/c and 240mm width at front driven by a powerful hydraulic motor with gear box. Max mech Slipform Curbing Machine offered by us is made available to the customers at the most competitive price.

Highlights:

Fitted on the control panel at the center of the machine
Two electronic sensors are fitted on side of mould box
Three hydraulic jacks
Engine with rubber wheels
Other Information:
Maxmech Slipform Curbing Machine
Slipform Curbing Machine Model: MSK 9145 is the most resourceful machine for creating various types of Curb for footpath upto 150 mm thk and 1220mm width, highways, gutters, small box etc.
The concrete for gushing into the mould should be made of special mix design and should have slump of approx. 25 to 30mm for higher section and 30 to 40mm for small section.
The machine is fundamentally driven self-propelled through a dense water cooled diesel engine, which has a Rubber Padded Crawler track, of 240mm width at front and 910c/c, driven by a sturdy hydraulic motor consisting a single gear box.
Mounted on equalizer beam, there are 4 idle rubber wheels solid tyres, 2 on each side. Whole machine is inclined on three hydraulic jacks, two at rear and one at front. Front portion carries crawler track and can be leaded by horizontal hydraulic cylinder. Rear portion conveys engine through rubber wheels, one machine's left hand side, the mold box is hanged from rear portion while acquiring hopper for concrete. Two-three hydraulic needle vibrators are set internally while receiving hopper for integration of concrete before the ingress of mould chamber. The mould chamber is shut at front end and opened at rear end with around length of 1500mm with suitable design for propelling machine in forward direction the concrete curb is modeled smoothly in slip form manner.
Two electronic sensors are set on mould box's side. The front one is configured for steering and the second rear one is configured for grade. This machine follows string line which is pre landed and laid by theodolite alongside the length of curbing line slope sensor that is fitted on control panel at machine's center.
Within 30 minutes max, this quick fit design mould can be altered.
Technical Specifications
Description

Size/Specification

Overall length

3810 mm

Overall width

2320 mm

Overall height

1870 mm

Curb Clearance

300 mm

Concrete charging height

1125 mm

Wheel base

2055 mm

Track

1330 mm

Crawler Track size at front

1 no. 910 x 240 mm Rubber padded crawler steel chain

Solid Rubber Tyres at rear

4 nos.

Sensor

Slope

Remote slope set

Grade

Fully Proportional

Steering

Fully Proportional

Vibrators

Imported needle vibrators are provided in the feeding hopper

Qty.- 2 standard 3 (optional)

Prime Mover

Specification

MITSUBISHI make Model:- S4L2 – V363JGHS


4 Cylinder water cooled diesel engine 24.1 kw @ 3000 rpm, ISO 15550